The course is a stunning, challenging tour of Stowe's beautiful countryside, starting at Stowe Land Trust's Mayo Farm Event Fields before turning left on to West Hill Road. Winding up and past some of Vermont's most beautiful Autumn vistas, at Mile 7 the course joins the Stowe Bike Path for the final 3 miles of pedestrian-only traffic, crossing the West Branch River and finally returning to Mayo Farm.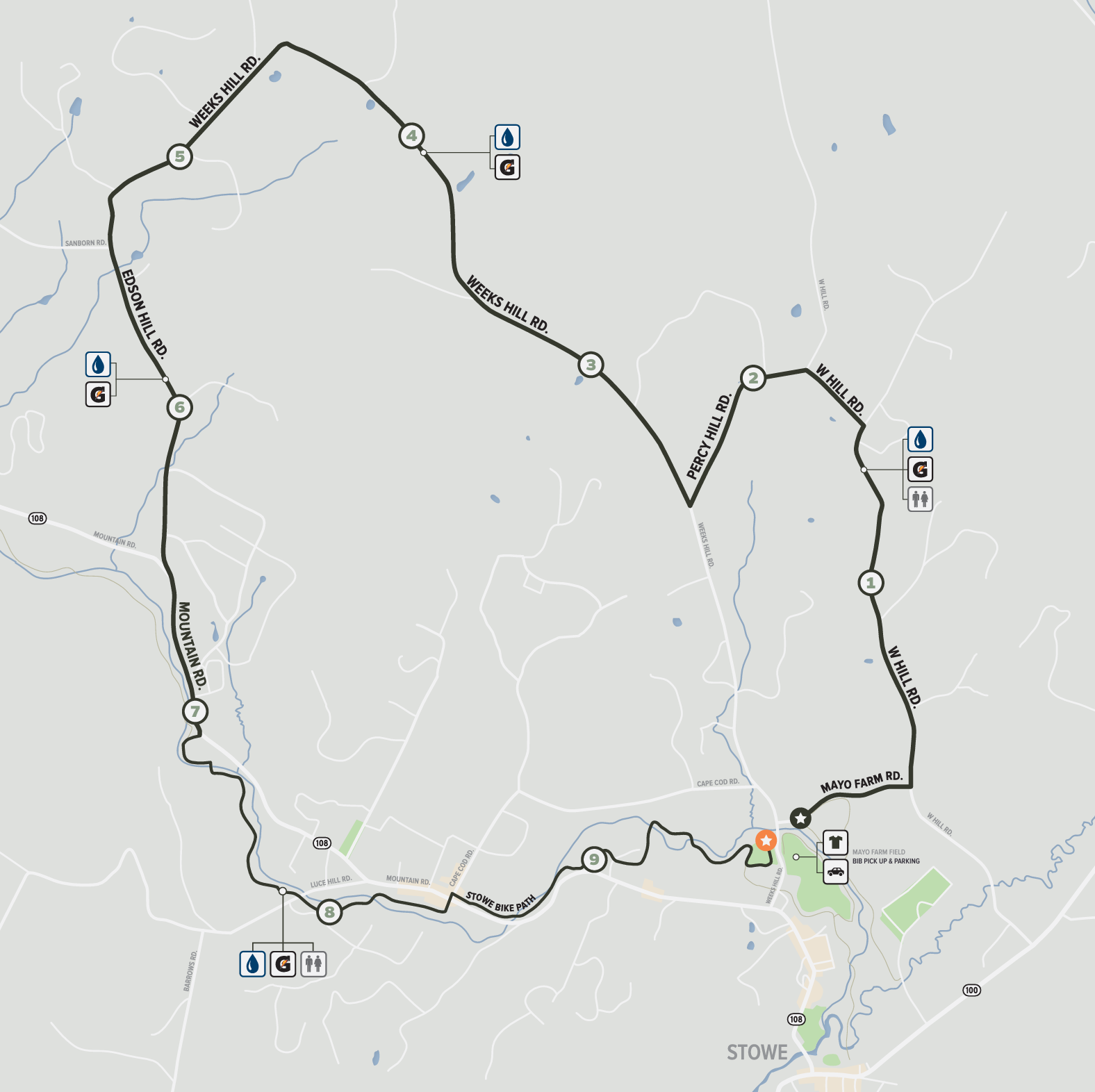 Vermont 10 Miler parking is available at the Mayo Farm/Stowe Event Fields (map), and is a short walk to both the start and finish of the race. Parking is limited in that there is only one entrance, and one exit. While our parking staff will be on site to assist, delays can build up. Consider carpooling or, if you're staying nearby, consider taking the gorgeous Stowe Recreation path to the start on foot or bike!
To ensure you have the most stress-free parking possible, please arrive early.
Course Support
Water and Nuun will be available roughly every two miles, at miles 1.4, 4.0, 6.0, and 7.8
Medical support will tail the race, and will be offered at the finish line. Restrooms are available at a few spots along the course. Please review the course map above to see the specific aid station offerings.
Time Limits
We welcome runners and walkers of all speeds. However, volunteers, on course-aid and roads can only be secured and staffed for a set amount of time.
The course will "close" on a continuous pace of 16:00 minutes per mile. Anyone who cannot maintain the 16:00 minute per mile pace must move to the sidewalk as the course closes to allow regular traffic through. Runner services cannot be guaranteed for participants beyond the 16:00 minute per mile pace.
Prohibited on the Course
We do not allow the following on the course: unregistered runners, pets, baby joggers, strollers, any wheeled vehicles other than wheelchairs (In accordance with USATF guidelines, wheelchair athletes must wear helmets).